Safe+Secure - Service Made Simple

Volvo is committed to caring for both you and your vehicle. Complimentary services are just the beginning of a successful ownership or lease experience. Regular maintenance is vital to the life of your Volvo, and our Prepaid Maintenance Plans offer the ability to lock-in your scheduled maintenance services at today's prices. Substantial cost savings and peace of mind - that's a powerful combination.

Cost Savings - Guaranteed!
A Volvo Prepaid Maintenance Plan is a sound investment that helps you reduce your out of pocket maintenance expenses.

Prepaid Maintenance Plans begin after your complimentary Factory Scheduled Maintenance expires. You can lock-in substantial savings and ensure the best service for your Volvo. For additional peace of mind, Wear Item Coverage can be added, and it begins immediately upon purchase.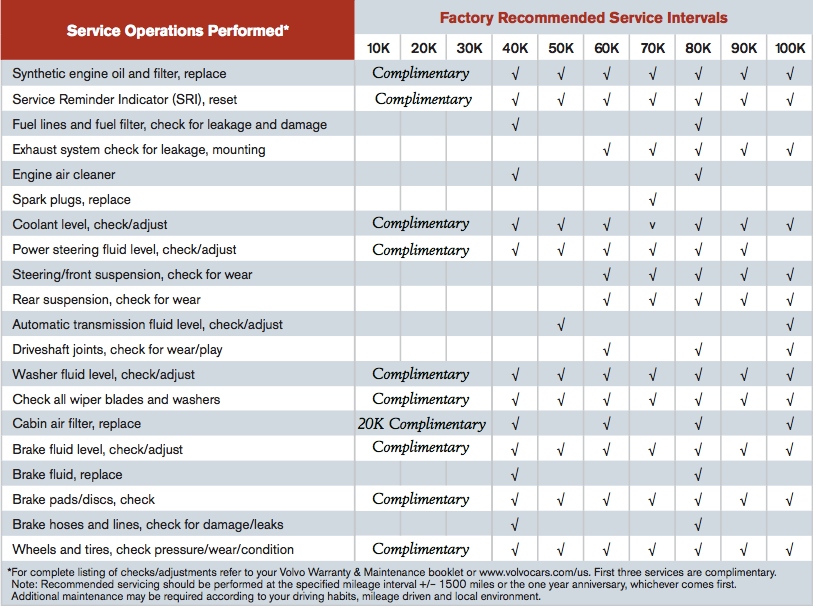 Complimentary Factory Scheduled Maintenance
The purchase or lease of a Volvo includes complimentary Factory Scheduled Maintenance for the first three services (10K, 20K and 30K). It's Volvo's way of helping to ensure that critical maintenance needs are taken care of right from the start. But it shouldn't end there. Continued regular maintenance is extremely important, and purchasing a Volvo Prepaid Maintenance Plan is a simple and convenient way to manage the maintenance process. It protects your investment and helps save you money.
Wear Item Coverage
Wear Item Coverage can be added to most plans, and includes wiper blades, brake pad and rotors, allowing worry-free ownership with virtually no maintenance expenses. Wear Item Coverage begins at time of plan purchase.
Flexible Plans for All Models
Volvo offers an assortment of plans, available with or without Wear Item coverage. Contact our Sales or Service departments using the form below for complete details and choose a plan that works best for you.
*Note: Wear Item Coverage does not include tires.
Advantages of Safe+Secure Prepaid Maintenance Plans
Save up to 25% in maintenance costs for 50,000 miles*
Available for all models - up to 100,000 mile maintenance coverage
Maintenance Only or Maintenance + Wear Item Coverage
Purchase with your new vehicle and include in your lease or finance plan
Purchase at any time through your Volvo Service Department
Valid at any authorized Volvo retailer in the United States
Follows the Volvo Factory Scheduled Maintenance intervals
Guards against inflation
Fully transferable to the next owner at no cost - potentially increasing the resale value of your Volvo
*Example based on plan 550FSMW and an average national Volvo labor rate of $115/hr. Tires not included.
A cost effective approach to maintaining your Volvo that decreases the cost of ownership by locking in savings at today's prices. Choose a plan that works best for you.
Contact Us
* Indicates a required field