Volvo C40 vs Audi Q4 e-tron
Compare Style, Performance, Technology and Safety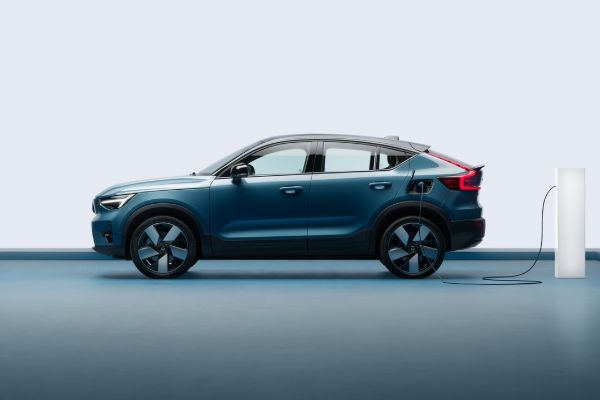 2022 Volvo C40 Recharge
Starting at $59,845

Rolling Incentives Off MSRP




Range

:

225 miles

Drivetrain

:

All-Wheel Drive (AWD)

Transmission

: 

1 Speed Automatic Mode Select (AW TG-81SC)

Horsepower

: 402 hp

Towing Capacity (pounds)

:

2,000 lbs

Battery

:

Liquid-cooled lithium-ion, 75.0 kWh

Wheelbase (inches)

:

106.5 in

Length (inches)

:

174.8 in

Height (inches)

:

62.6 in

Cargo Capacity (cubic feet)

:

47.2

Warranty

4 Basic Years / 50,000 Basic Miles

4 Drivetrain Years / 50,000 Drivetrain Miles

12 Corrosion Years / Unlimited Corrosion Miles

4 Roadside Assistance Years / Unlimited Roadside Assistance Miles

3 Maintenance Years / 36,000 Maintenance Miles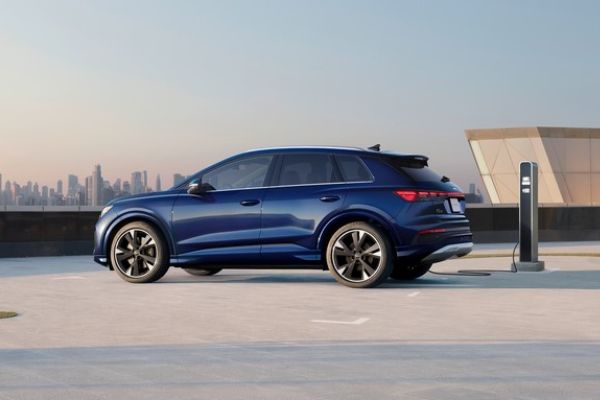 2022 Audi Q4 e-tron
Starting at $44,995

Rolling Incentives Off MSRP




Range

:

241 miles 

Drivetrain

:

Real-Wheel Drive (RWD)

Transmission

:

1 Speed Automatic

 Horsepower

: 295 hp

Towing Capacity (pounds)

:

2,205 lbs

Battery

: 

77.0-kWh battery pack, Lithium-ion

Wheelbase (inches)

:

108.7 in

Length (inches)

:

180.7 in

Height (inches)

:

64.7 in

Cargo Capacity (cubic feet)

:

53.1

Warranty

4 Basic Years / 50,000 Basic Miles

4 Drivetrain Years / 50,000 Drivetrain Miles

4 Roadside Assistance Years / Unlimited Roadside Assistance Miles

8 Electric Component Years / 100,000 Electric Component Miles
Considering the Audi Q4 e-tron? Consider the Volvo C40 Instead - Here's Why
With electric vehicles dominating the automotive headlines in recent years, some big contenders have come out early to show what they are capable of. With both the Audi Q4 e-tron and Volvo C40 crossover occupying the luxury electric crossover space, it's easy to pit the two against one another when trying to find the right fit. At Leikin Volvo Cars Cleveland, we know that both are excellent options, but we're especially excited about the performance and versatility you'll get from the Volvo C40 versus the Audi Q4 e-tron.
Performance
Both the Audi Q4 e-tron and Volvo C40 crossover are fully electric powered, meaning that you'll never make a trip to the pump with either model. That said, the Audi model delivers just 201 horsepower in it's base guise. That's half of the 402 horsepower you'll get out of the Volvo C40 crossover. If you're looking for driving fun, there is no doubt that the 2022 Volvo C40 is the clear winner when compared to the Audi Q4 e-tron. Even if you upgrade the Audi to the upper trim powertrain, you'll still only have 295 horsepower beneath you, putting it over 100 horsepower down versus the Volvo. And you'll get that powerful 402 horsepower no matter which Volvo C40 model you bring home, so you'll never have to compromise on performance.
Range
You might think that the trade-off for all of that extra power in the 2022 Volvo C40 is that it will struggle to meet the range offered by the Audi Q4 e-tron. However, both models achieve over 200 miles between charges, with the Audi ticking just a few miles ahead with a stated 241 miles of range. That said, in the real world the difference between the two on range is negligible, so you can use other factors to decide which new luxury EV is right for you.
Standard Safety Equipment
Volvo's focus on safety is the stuff of legends, and only the Volvo C40 comes standard with a complete suite of driver assistance features to help you navigate the roads ahead. You'll find forward collision warning, automatic emergency braking, and a pedestrian detection system that picks up cyclists and animals on the road ahead as well. It's a complete safety system that ensures you're aware of all types of hazards on the road ahead so you can be more prepared for the unexpected.
Both the Audi and Volvo models come with adaptive cruise control, lane detection, and parking sensors to help you navigate tight spaces. And with optional extras, both give you blind spot monitoring and rear cross traffic alert as well.
Technology
Technology drives convenience in today's automotive world, and we're proud to say that the Volvo C40 and Audi Q4 e-tron are well matched in this category. The Volvo infotainment system has seen a major overhaul, offering an easy-to-use interface that is both more intuitive and quicker to respond than ever before. The Audi system has gotten updates as well, and both systems offer voice controls for a variety of functions as you travel. One plus point for the Volvo is the use of Volvo OnCall, a smartphone app that gives you control over your vehicle remotely. Start the motors to activate the climate control system, or simply lock and unlock your doors from afar. You can even share driving privileges with the Phone as a Key feature, so others can drive your vehicle with your permission without having to meet to swap keys.
Visit Leikin Volvo Cars Cleveland to Learn More
We're anxiously awaiting the arrival of the 2022 Volvo C40 at our dealership, but we're well versed in what you can expect. Visit us near Cleveland to talk all things Volvo, and the future of electric vehicles.
Leikin Volvo Cars Cleveland

38750 Mentor Ave
Willoughby, OH 44094