The S90 Conquest Pull Ahead program is for customers within one year of their lease termination. Volvo will reimburse the customer's balance of their lease commitment for up to 6 months at a maximum of $750 per month (maximum total value $4,500). This program is eligible on a new lease or purchase of an S90 for customers that currently lease one of the following makes: Audi, BMW, Infiniti, Jaguar, Lexus, and Mercedes-Benz. Contact us for additional details.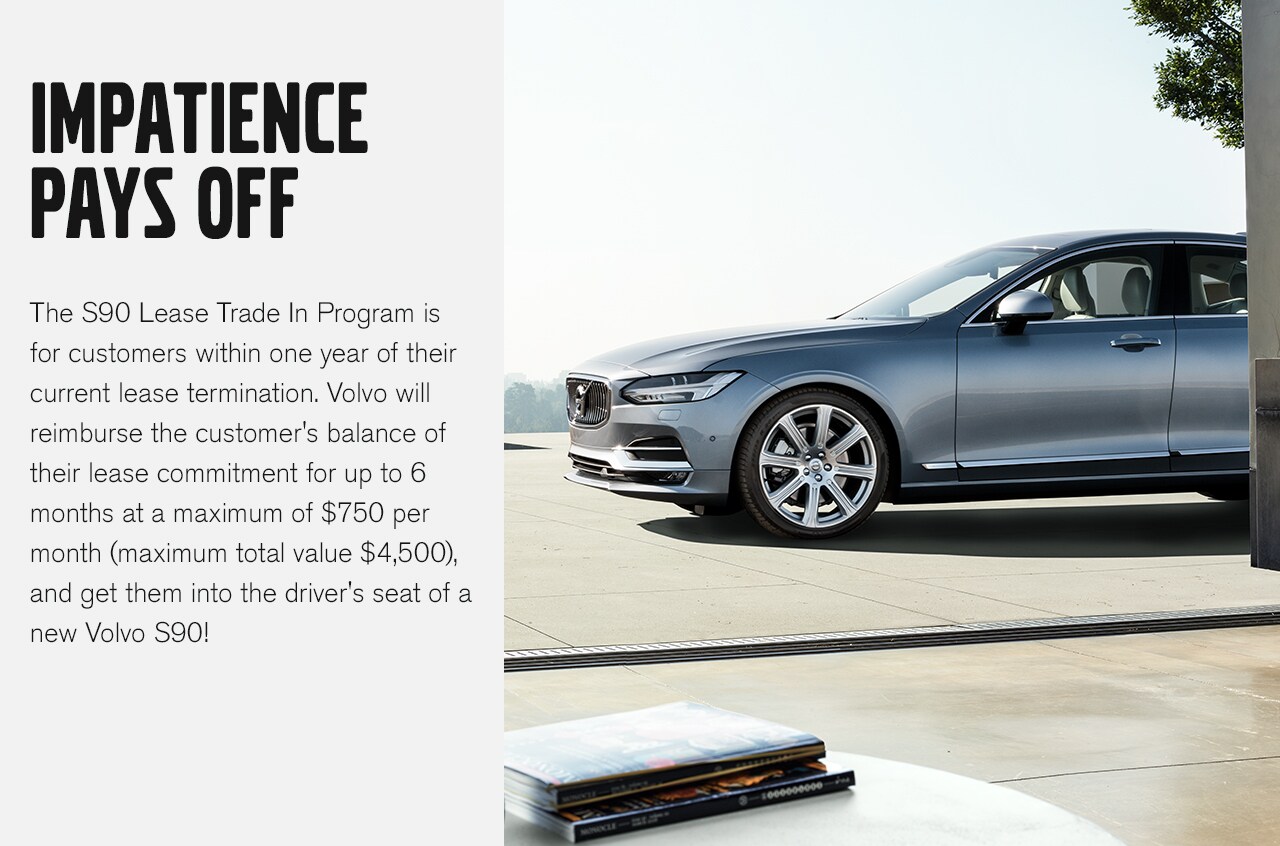 Volvo Car Financial Services (VCFS) has announced the Lease Pull Ahead Program for customers that that have six (6) or fewer monthly payments remaining on their existing VCFS lease. Eligible customers can terminate their lease prior to the maturity date and can receive up to six (6) months payment credit toward any remaining payments as well as a waiver on the turn-in fee on their existing lease when they simultaneously lease a new Volvo though VCFS.
Some reasons you may want to take advantage of the program:
You are ready to get into a new vehicle.
You would like minimize their monthly lease payment.
You have exceeded or is close to exceeding their annual mileage plan.
Your are interested in driving a different model in the Volvo line-up.
---
 The program applies to all new vehicles. The start date of the program is October 1, 2016 and end date June 30th 2017. The program is offered to customers with 6 or less remaining payments on their lease. All Volvo Car Financial Service lease accounts are eligible (except single payment lease). U.S. Bank lease accounts are not eligible for this offer. For eligible customers, VCFS will waive up to six (6) remaining monthly payments and the $350 vehicle turn-in fee when customer leases a new vehicle through VCFS. Payments already made on a lease account cannot be reimbursed, for example if a customer has five (5) remaining monthly lease payments, their maximum benefit under this program is five (5) payments. Customer's account must be up to date to qualify. Any past due payments would disqualify customer from program benefits. When a customer turns in their vehicle they are still responsible for excess wear and use, excess mileage, and any other obligations, e.g., personal property tax, if applicable.
---
Please contact one of our Sales Consultants for additional information on how this exciting new program pertains to your current Volvo lease.